Noma is a two-star restaurant in Copenhagen, Denmark. Head chef René Redzepi creates dishes based on the local ingredients of Scandinavia, influenced by molecular gastronomy. Redzepi's background includes El Bulli and The French Laundry.
Noma was voted Best Restaurant in the World for three years between 2010 and 2012 by Restaurant Magazine's top 50 restaurants piece. Interestingly enough, during this time, the Michelin guide kept it ranked at a steady two out of three possible stars. Noma is notable for having taken the Best Restaurant accolade from El Bulli, which had maintained the title for the prior four years. Noma is now considered the second-best restaurant in the world, after losing its position to El Celler de Can Roca in Spain for the year of 2013.
Noma takes an innovative and inventive approach to both its cooking and its strictly local sourcing and foraging. Chef-patron René Redzepi's food can at times be shocking – visceral even – but it strives to reflect the Danish landscape and culture. Through its menu of numerous small appetisers and courses to its stunning array of 'treats' that round off the meal, there's always at least one dish that makes you feel glad to be alive.
Noma is located in the Christianshavn neighborhood of Copenhagen, in the Greenlandic Trading Square, which was formerly a center of maritime trading with other Scandinavian countries.
Sample Menu
Edit
"Æbleskiver" and greens
Mahogany clam and grains
Celeriac and cabbages
Aronia berries and söl
Razor Clam in Parsley Jelly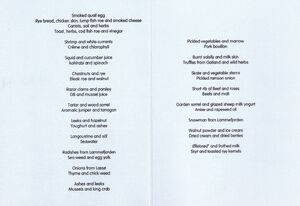 FOOD PHOTOS
Edit

Strandgade 93 DK-1401 Copenhagen K
Ad blocker interference detected!
Wikia is a free-to-use site that makes money from advertising. We have a modified experience for viewers using ad blockers

Wikia is not accessible if you've made further modifications. Remove the custom ad blocker rule(s) and the page will load as expected.