Michael Mina is a celebrity chef with 18 restaurants across the US -- largely in San Francisco and Las Vegas. He has received numerous awards, including Wine Enthusiast Magazine Restaurateur of the Year of 2012, and the James Beard Foundation's Best Chef of 2002. He runs the Mina Group in partnership with tennis legend Andre Agassi.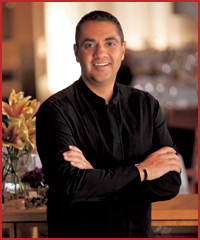 Among his many award-winning restaurants is his namesake in San Francisco, earning him one Michelin Star in 2013.
Ad blocker interference detected!
Wikia is a free-to-use site that makes money from advertising. We have a modified experience for viewers using ad blockers

Wikia is not accessible if you've made further modifications. Remove the custom ad blocker rule(s) and the page will load as expected.