Manresa is a two-star restaurant in Los Gatos, California. The chef, David Kinch, focuses on providing elevated cuisine based on a fully-controlled set of seasonal ingredients. These ingredients are obtained through exclusive contracts with producers that allows him complete control over the production of all food even before it arrives in the kitchen. The cuisine maintains a hyper-local focus for the Santa Cruz mountains, with an entire page of the wine list dedicated to wines from this area. The Santa Cruz mountains comprise the smallest Californian American Viticultural Area, with both the smallest surface area and smallest acreage of grapes grown due to its mountainous terrain.
Menus are daily, based on seasonal ingredients. Rather than a course menu, the diner is treated to an alphabetical listing of all of the ingredients that will be play that evening. A more descriptive menu is provided to the diner at the completion of the meal as a souvenir. The meal consists of nine courses, skewing towards savory, but with a few sweet at the end.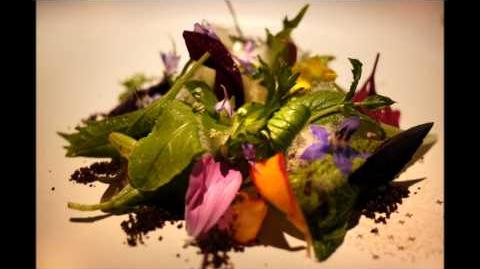 320 Village Lane, Los Gatos, CA 95030
Ad blocker interference detected!
Wikia is a free-to-use site that makes money from advertising. We have a modified experience for viewers using ad blockers

Wikia is not accessible if you've made further modifications. Remove the custom ad blocker rule(s) and the page will load as expected.