In 1993 Nancy Oakes opened what was to become one of the most popular restaurants in San Francisco and America.
Created in partnership with designer Pat Kuleto, BOULEVARD began and continues with Nancy Oakes hearty, flavorful and beautiful cuisine as its centerpiece.
Surrounded by Pat Kuleto's timeless Belle Epoque inspired design, Chef Oakes wonderful expression of American regional flavors with a French influenced style has made BOULEVARD a culinary landmark on San Francisco's revived Embarcadero waterfront.
SAMPLE MENUS
Edit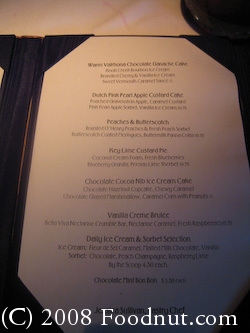 FOOD PHOTOS
Edit
Ad blocker interference detected!
Wikia is a free-to-use site that makes money from advertising. We have a modified experience for viewers using ad blockers

Wikia is not accessible if you've made further modifications. Remove the custom ad blocker rule(s) and the page will load as expected.